Renting a Shell Scheme Booth Depending on your exhibiting needs, renting a shell scheme booth might be a worthwhile consideration.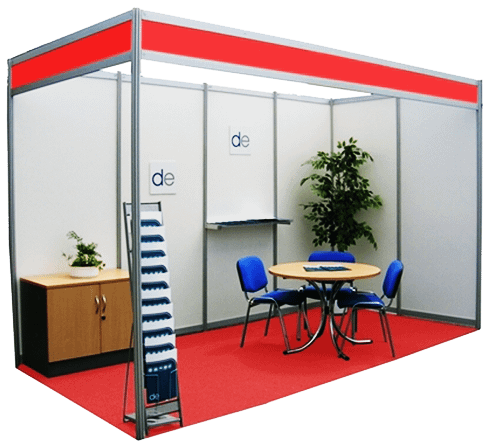 Benefits of Renting a Booth:
Budget-friendly, it can be perfect for an event of any scale especially if a big stand space is not required.
Quick to assemble and dismantle, Octanorm shell scheme renting is also an ideal solution for the last minute event.
Shell scheme structures come in modular 3m x 3m booths which can be transformed into any larger space you may need. (Rental cost is calculated per square meter.)
Print and fix your graphics and add any other stand element you might require (shelves, showcase units, counters, etc.)
Octanorm Shell Scheme Booth Specifications:
3 m x 3 m Octanorm aluminum structure with H 2.5 m
White infill wall panels
Track spot lights (3 nos.)
Power socket (1 no.)
A table (1 no.)
Black leather chairs (2 nos.)
Waste basket (1 no.)
Company name vinyl cut on white board
After having booked your shell scheme booth you still wish to stand out from the crowd, you can always contact our team to upgrade your booth by adding more fabricated items into it. Please contact us for more information.
Some Helpful Tips for You to Consider :
Instead of taking the reception counter from the organizer ask Rowad Expo to design and build an individual one for you with the colors as per your logo.
Ask your organizer what is the color of the carpet they are providing and go for a different one.
Use different furniture rather than the standard furniture from the organizer you can choose something more suitable from Rowad Expo.
Add some other custom-made items such as cabinets with storage inside and products' display counters
Go for vinyl sticker graphics or graphics on foam boards and hang them on the walls of the shell scheme booth, covering them completely or just halfway. That will give a finished look to the stand and it's obviously a much better choice than the usual standing roll-ups. Ask your contractor to print and install them for you.
Using a few of our useful tips can give your shell scheme booth that personal touch, a warmer and more inviting atmosphere, and will help catch the eyes of all passers-by.